THE
LETTING GO
EXPERIENCE
Participate In this Art Making Process facilitated by artist Priscila Soares.
Come play with paper, paint, crayons, markers and other various materials in this collaborative project.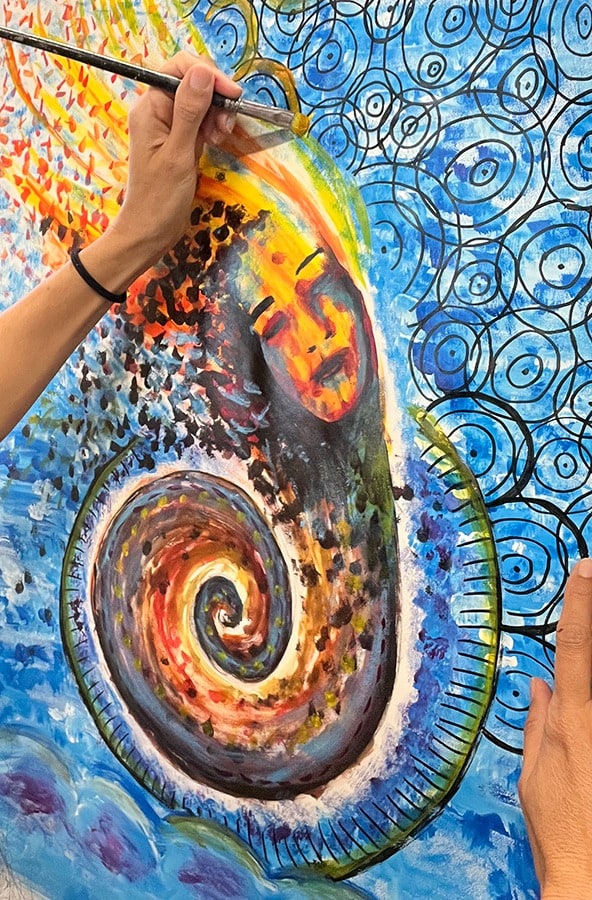 It's not a class,
it's an experience.
No art skills necessary. all ages are welcome. stay as long as you want while we are open, work on as many pieces as you feel like. all materials included. come back on the last day to celebrate what we have created together.
Do you want to get more in touch with your creativity?
I invite you to come make art in a safe environment, to surrender to the process of being in a state of flow, to embrace the unknown, the unexpected, the wonders of doing art without expectations or judgment.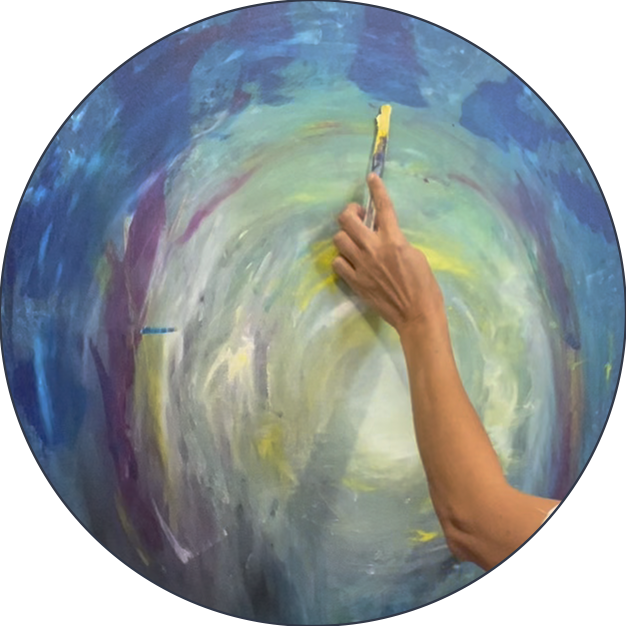 Creative & Inspiring

How it Works
You are invited to let your inner child play. There will be papers placed all over our gallery walls. You will have lots of art supplies at your disposal. In each section, there will be a suggestion on a direction you can take with your art making. Suggestions will change depending on the Sunday you decide to visit, so come as often as you want and bring friends and family. All ages are welcome to join!
On the last day of this event everyone is invited to come back to see a curated selection of the final art pieces displayed on our gallery walls. The pieces will be offered as auction items and all proceeds from those sales will go towards helping Mare Island Art Studios.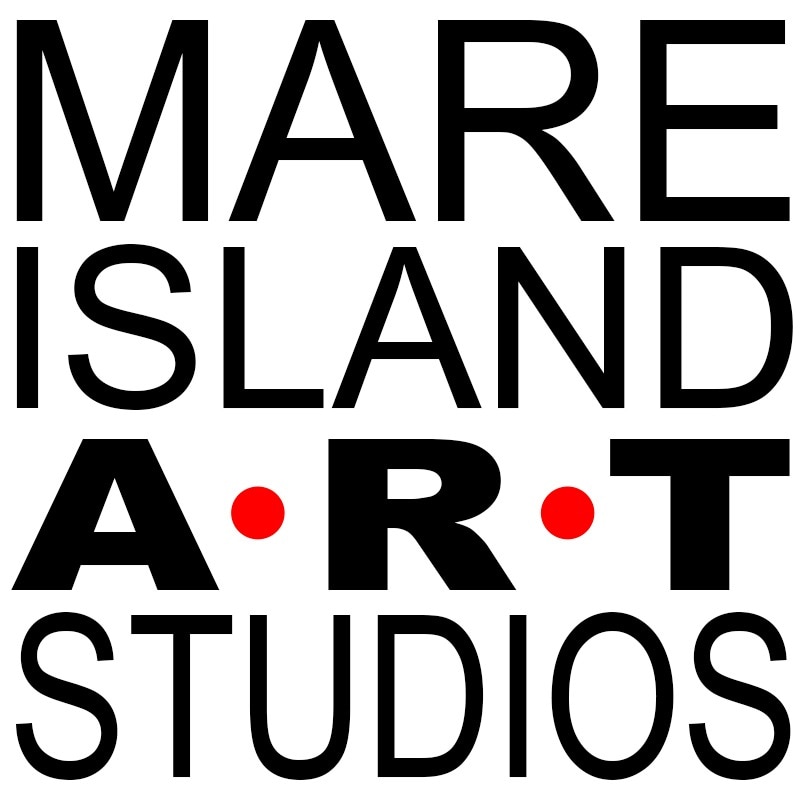 Open on Sundays
June 4th to July 9th 12-4pm
Suggested Donation: $20 per person

Closing Reception
Sunday July 16th - 12pm-4pm
Come back to see the final pieces
we have created on our walls and celebrate our creation.
Mare Island Art Studios
110 Pintado St. Vallejo, CA
For many years I lived in fear of not being good enough, and of my art not being good enough. I played it safe. As years went by, something within my soul was missing. I felt out of touch with my true self.
It was through the process of trusting myself and letting go of expectations that my inner self began to flourish.
Since then, I have facilitated workshops, retreats and classes, helping others do the same through somatic experiences, breathwork, movement, meditation and art supplies.
Now I invite you to join me in this debut project at the Mare Island Art Studios, a place where I work on my own art each week, where I get inspired by the wonderful scenery of the Napa River, where I exchange ideas and collaborate with a group of wonderful artists who also work there as well as many visitors. I hope I get to see you there too!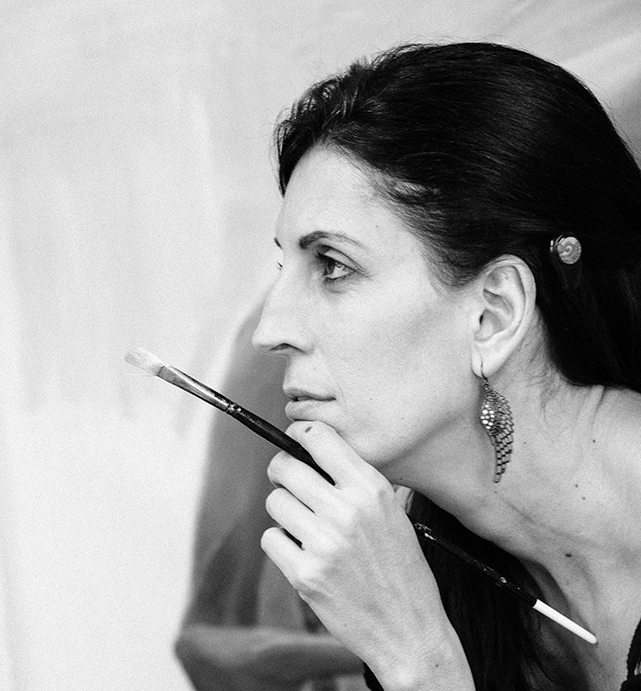 "I'm not an artist"
"I've never painted on a big canvas before"
"I've never tried Acrylics"
"I've never painted on a wall, only on tables."
"I'm a bit overwhelmed, I don't even know where to start."
Thoughts arise. It's normal to feel resistance when we are faced with something new. The whole purpose of creating this space is to give you a chance to face those thoughts in a safe environment. That's why I filled the room with prompts to remind you to let go of your inner-critic. Not in a judgmental way, but simply to let it sit in the Inner Critic Chair (I actually created one) so you have a chance to be free to play and explore in a welcoming space.
The ones who came on the first day had a great challenge to face: The fear of a blank canvas and to be the first one to leave a mark. That's no easy task for many. You may feel exposed, clearly seen. Self judgment may arise and the inner-critic will begin to talk. They had to stay open. They took their time. Some began with what they felt was the easiest. Perhaps one of the table exercises, like doodling with your non-dominant hand, which may not feel as threatening. Then they relaxed, they heard the soothing music, felt the peace of the environment and began to explore further. Most went around the entire room taking their time on each art station.
"I needed this experience."
"This was so much fun!"
"Mom, do I have time to do one more?"
"I love the freedom of playing in this space"
"Thank you for creating this. What a wonderful idea!"
And so the experience begins. You come and leave your mark, fill the room with your presence and your choices of colors and tools. And then you leave. Someone else will come. They may incorporate to what you have done, they may cover it up, they may not dare to touch where you have created. You just don't know what will happen, so you are invited to just create and let life take care of the rest. Not being in control all of the time, not knowing the outcome of what you are making, how freeing is that? Isn't that a great metaphor for life in itself?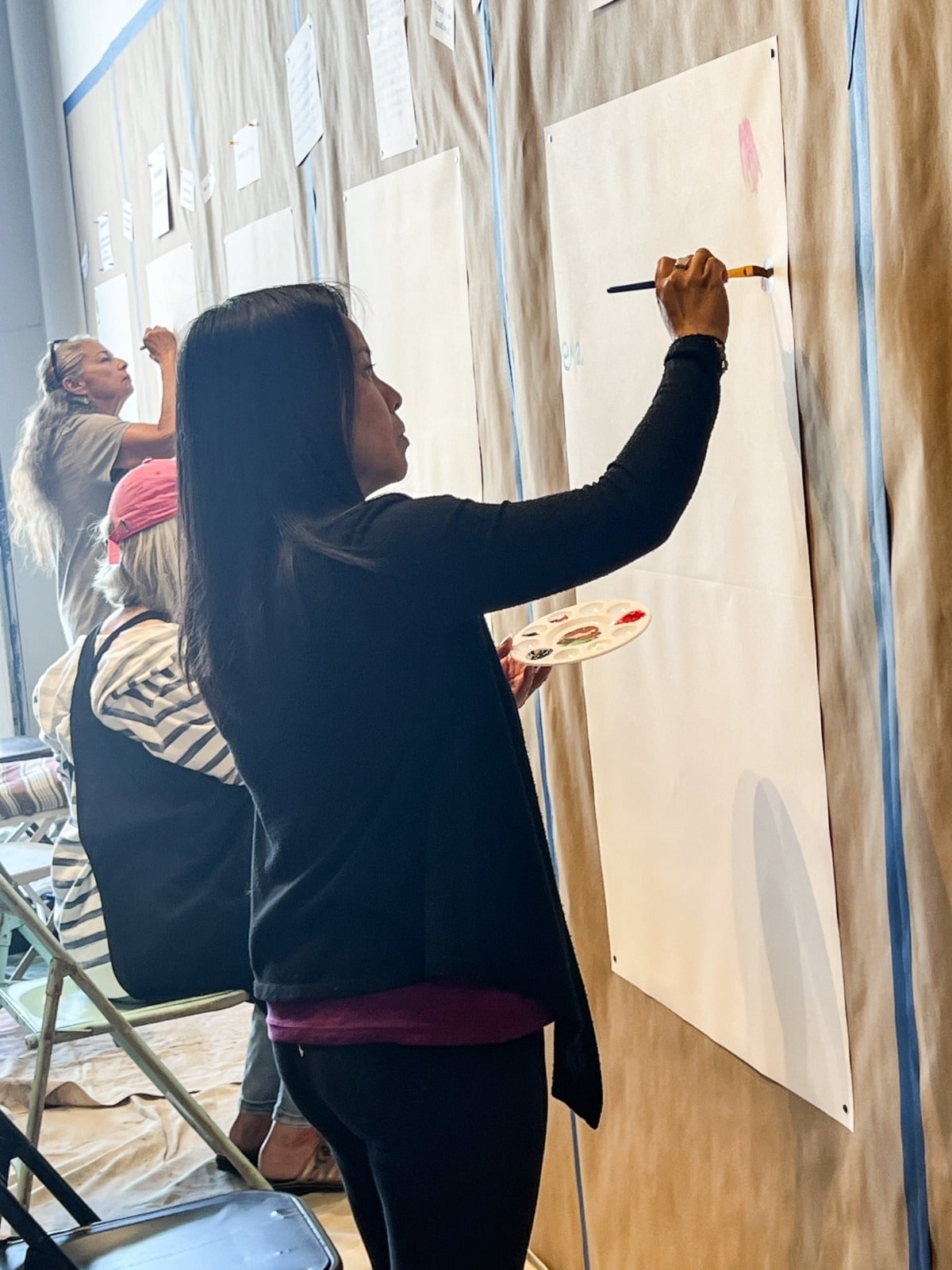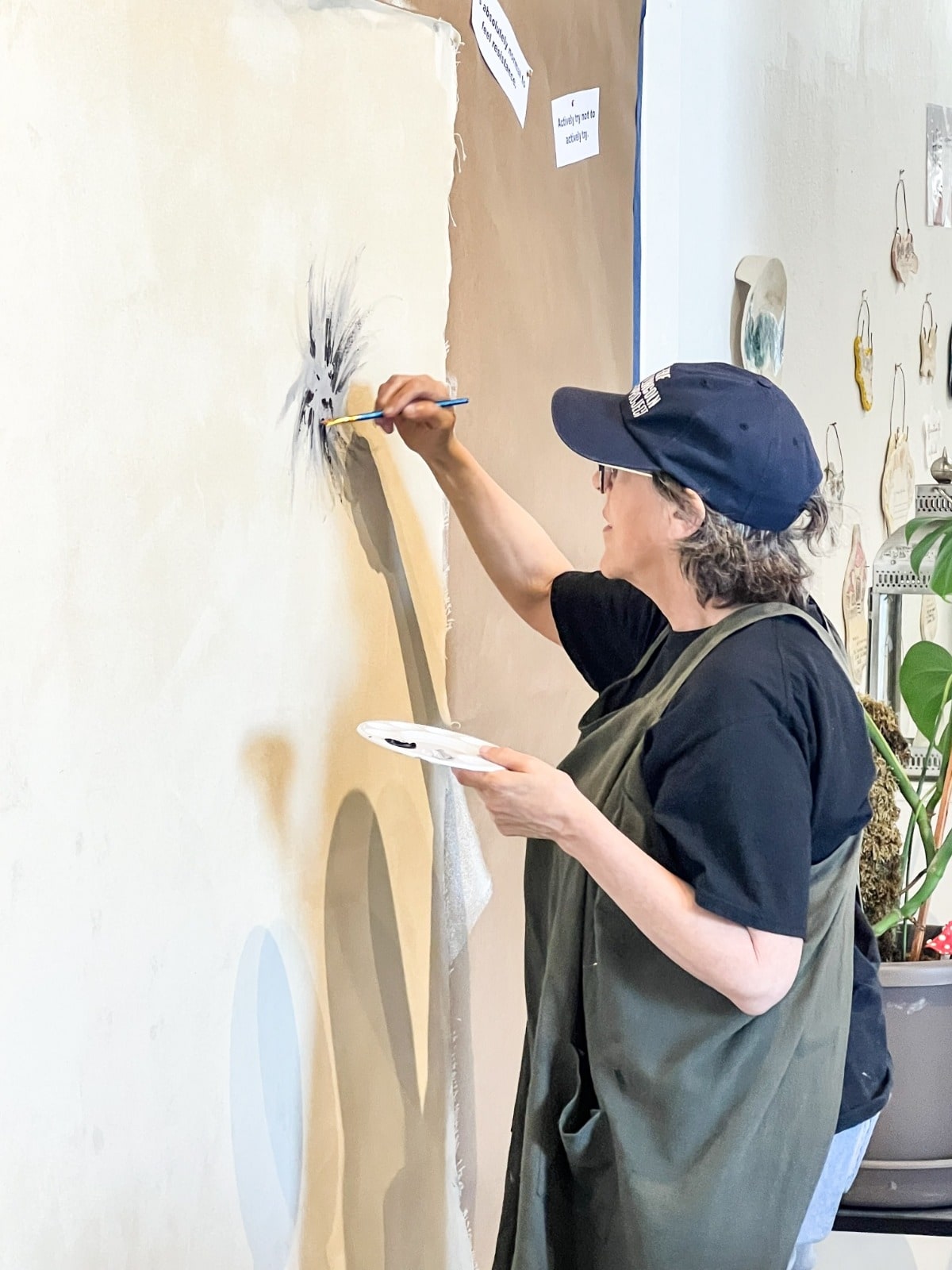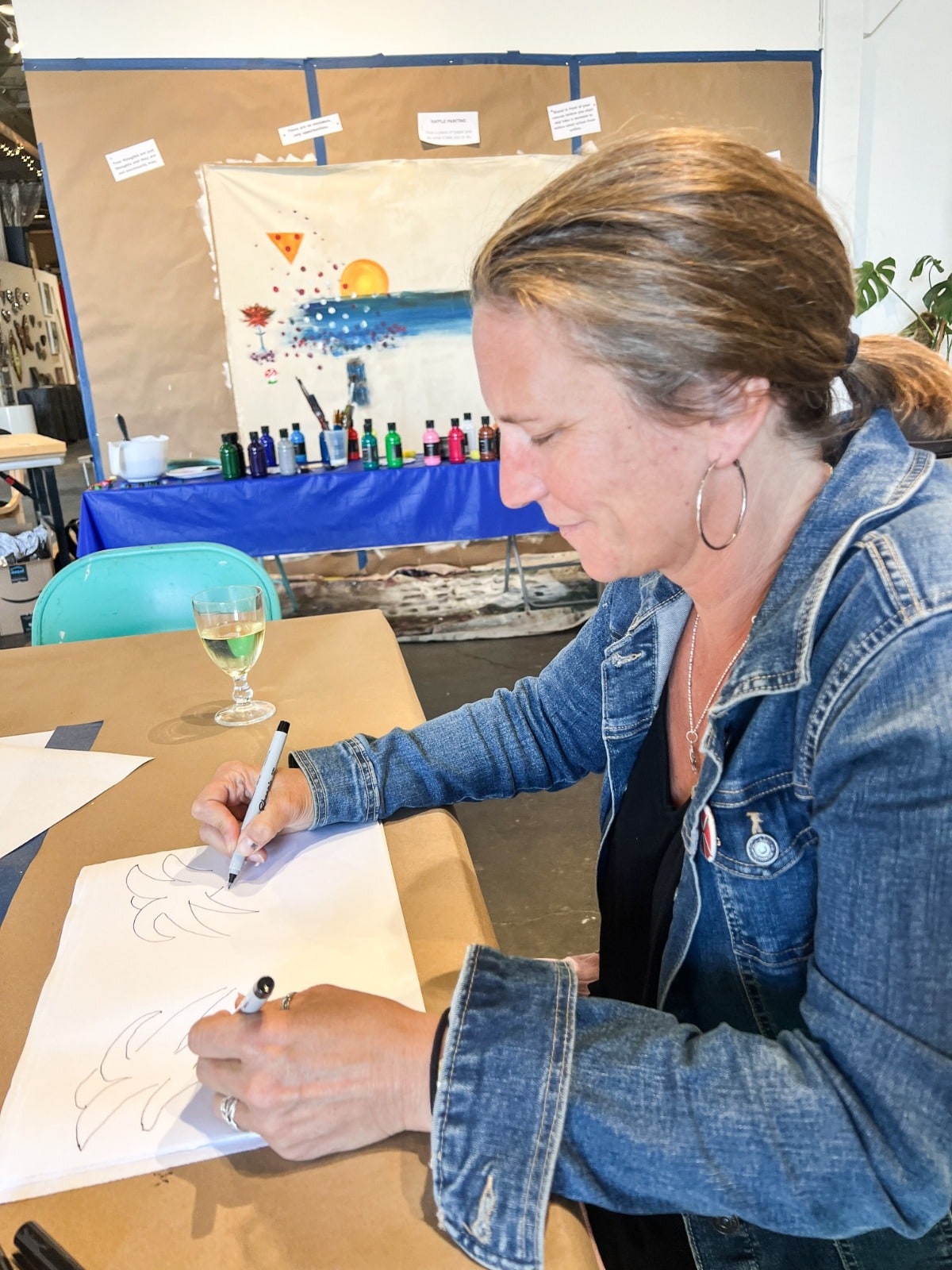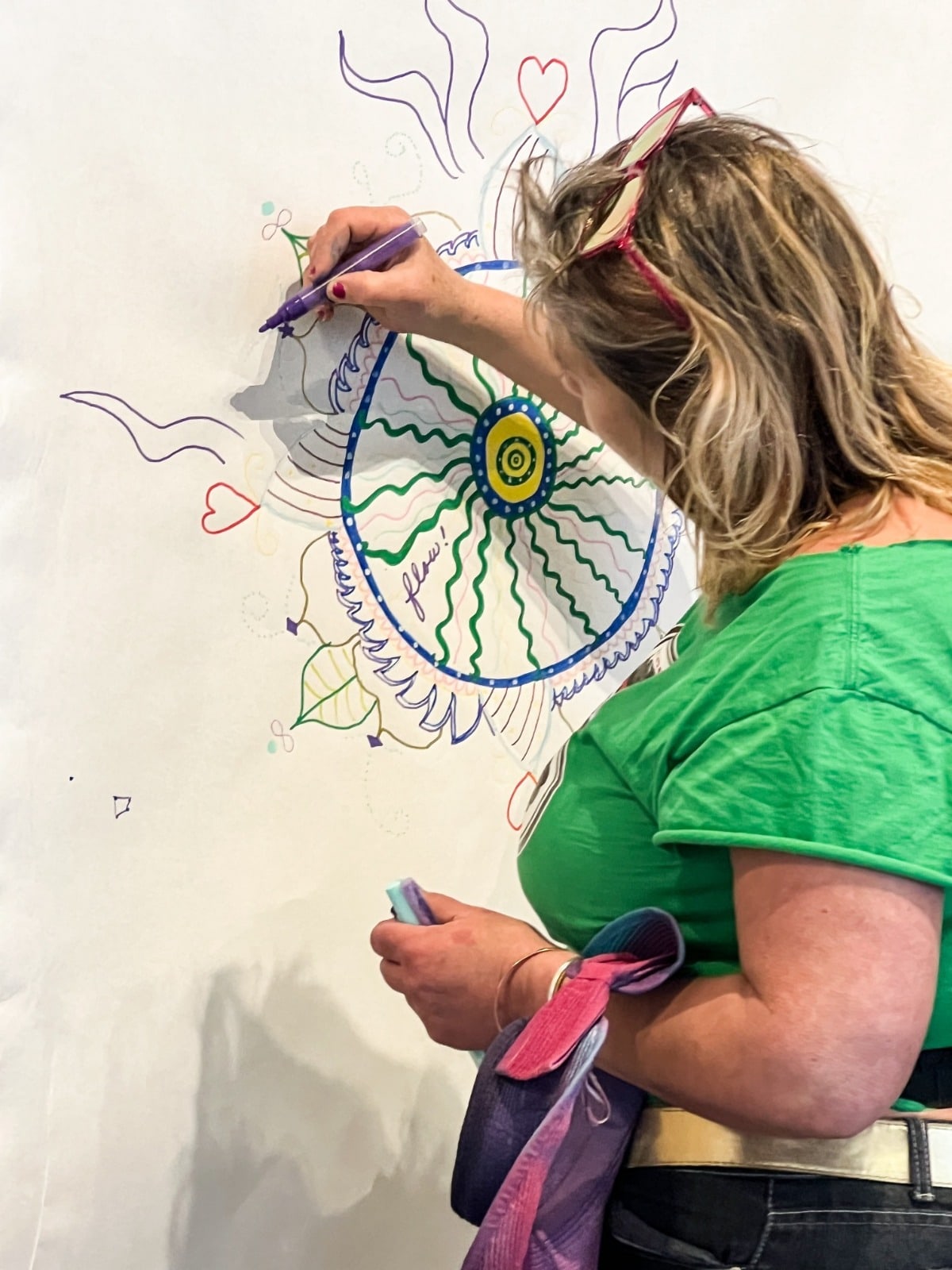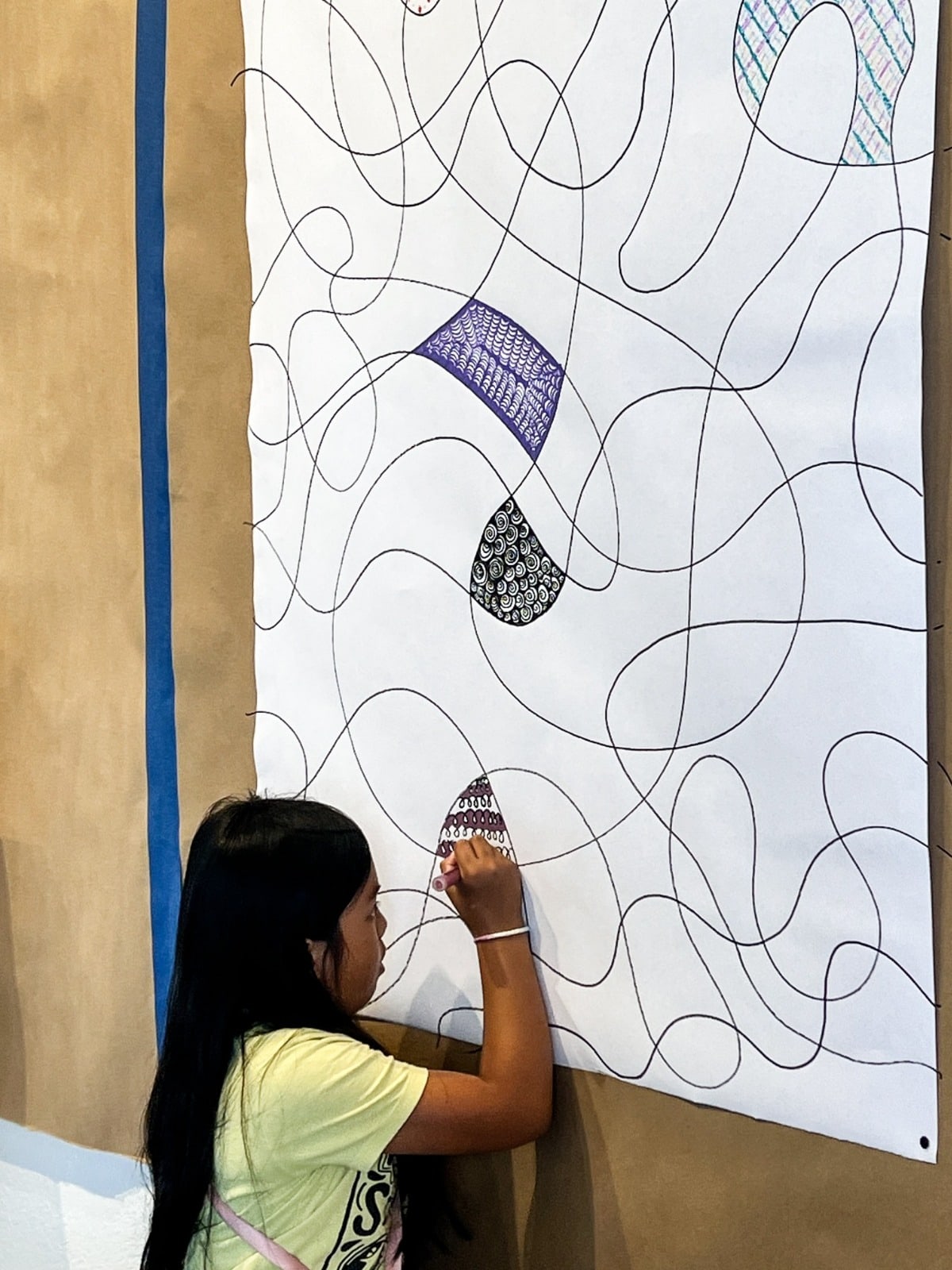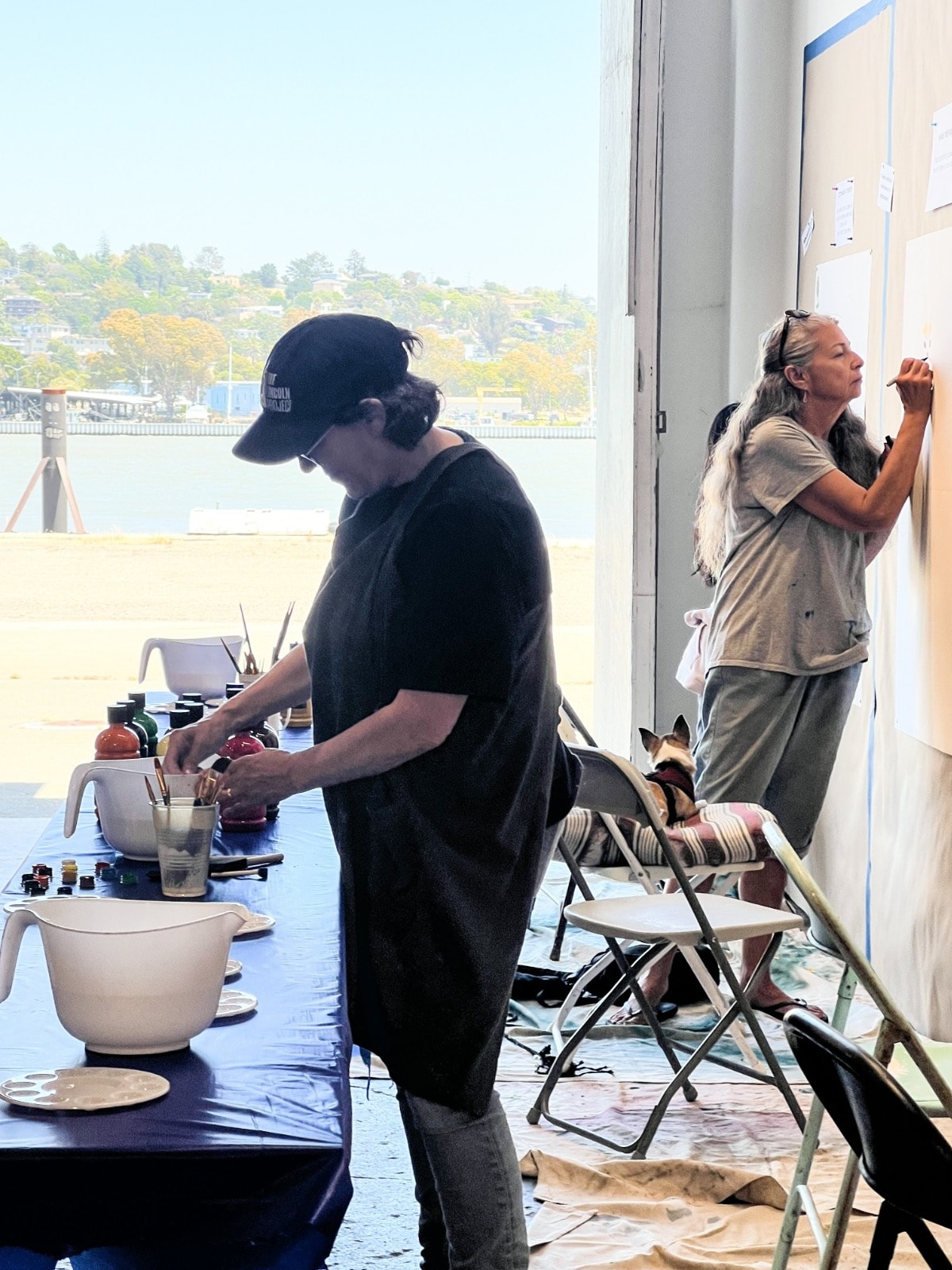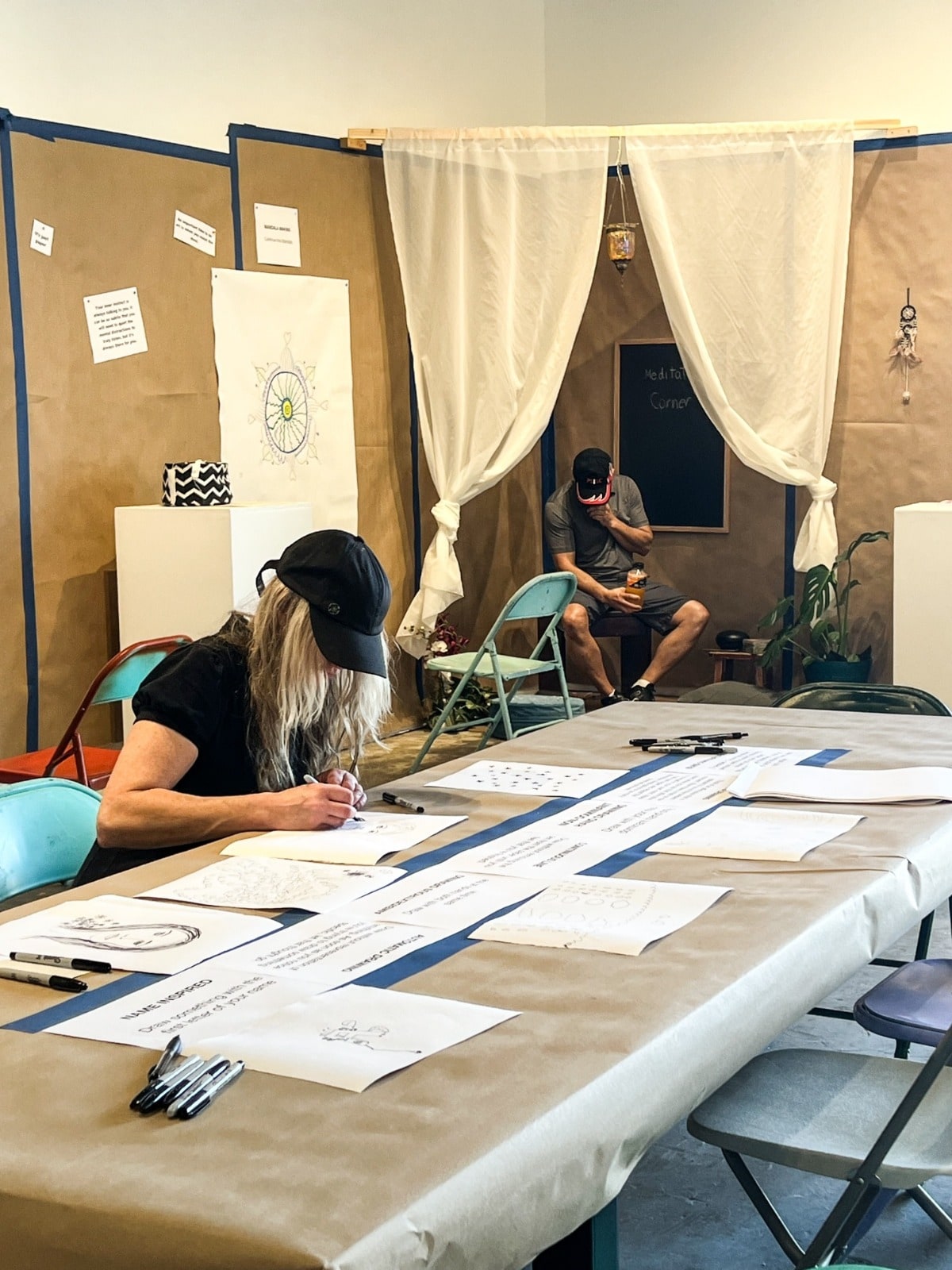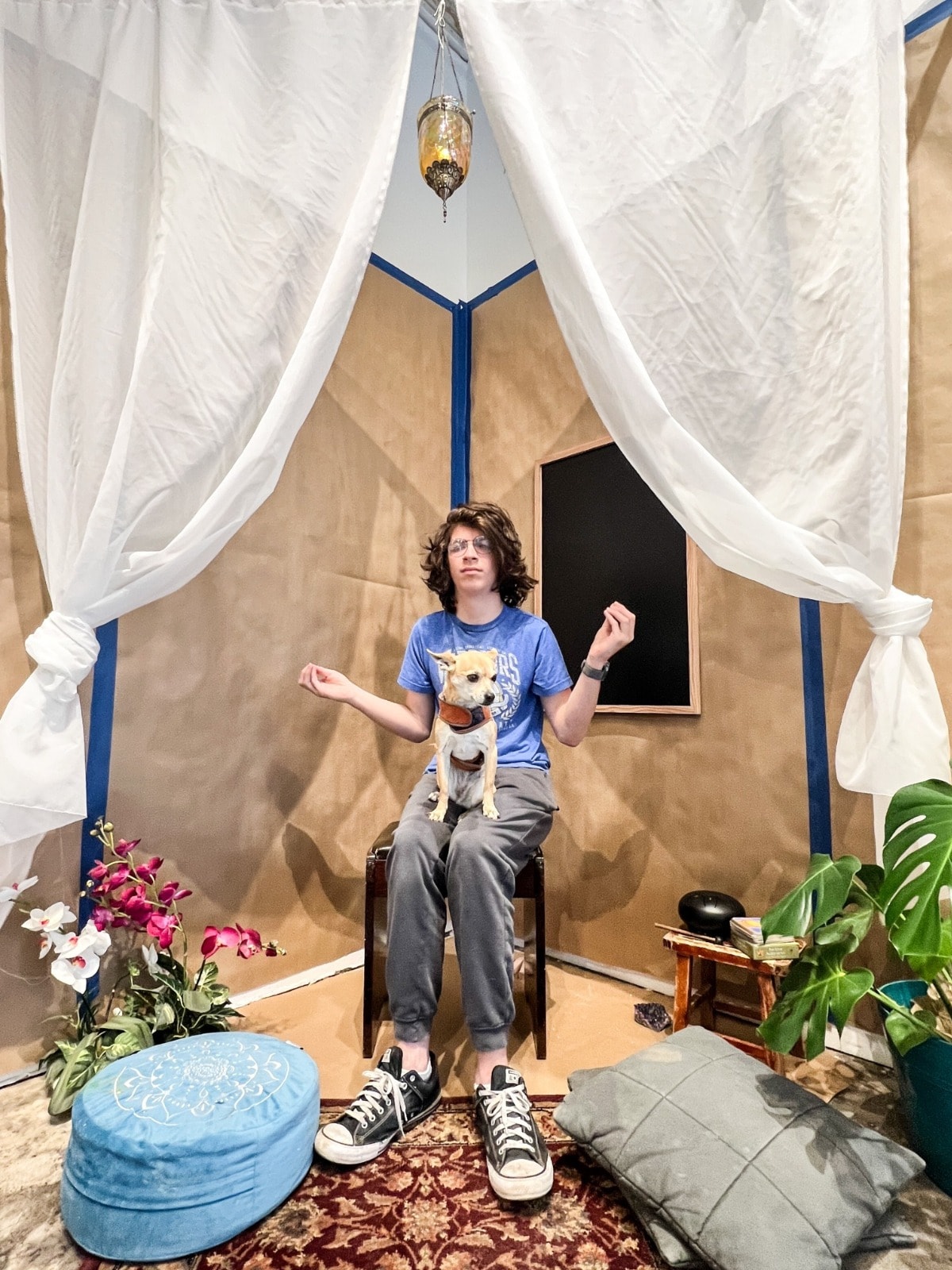 I've never painted before and it was a magic moment to me, where the canvas was my universe, and I dove deeply into it. Wonderful environment, place, music and view. Loved the experience! 😀
Rosalie A.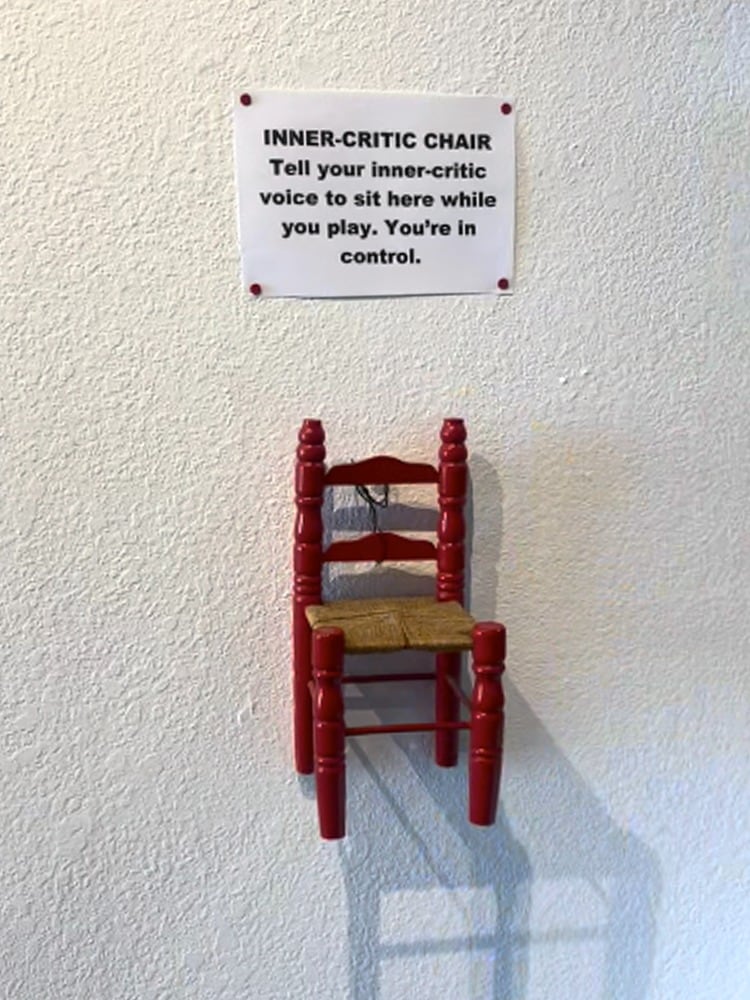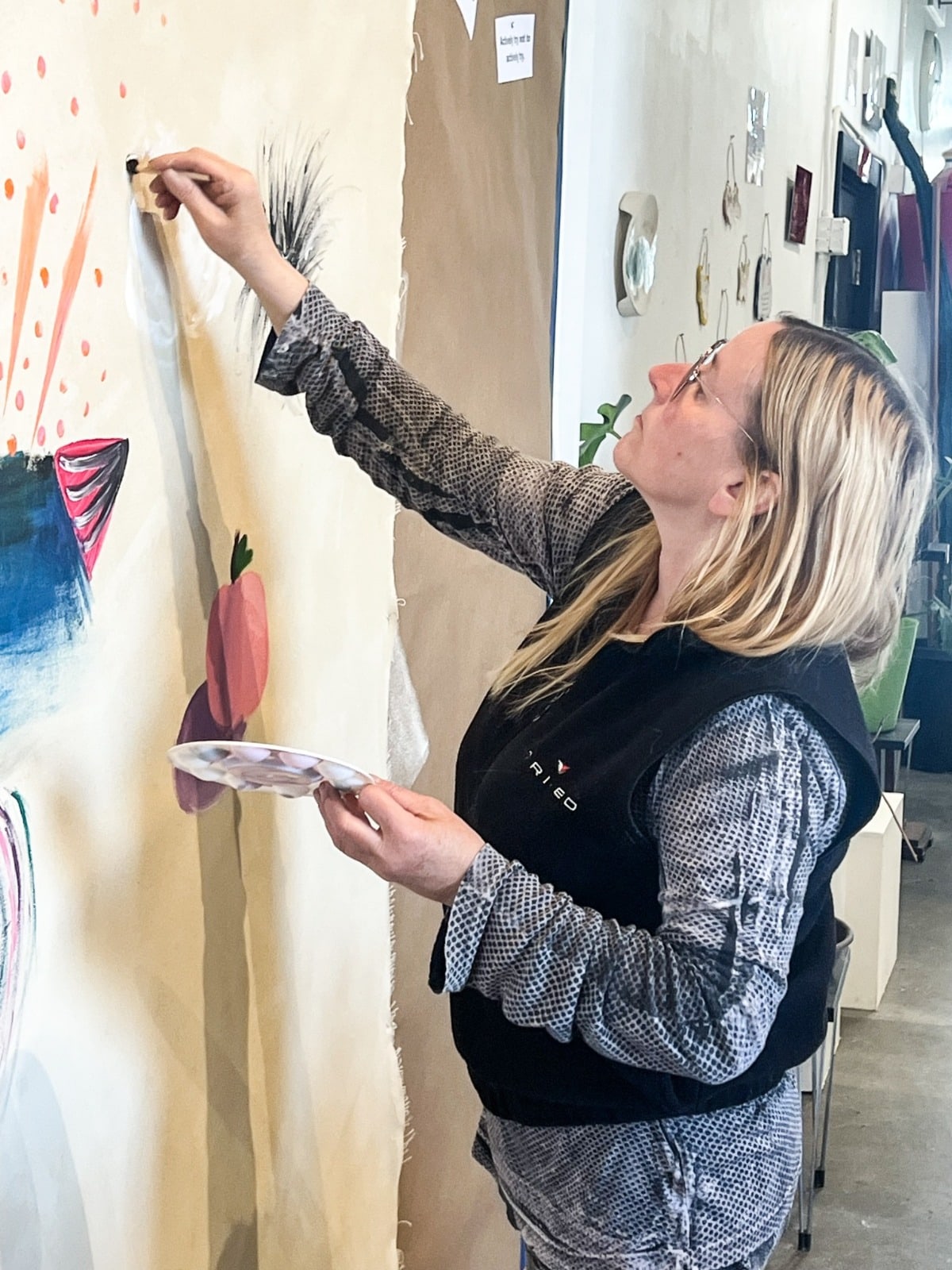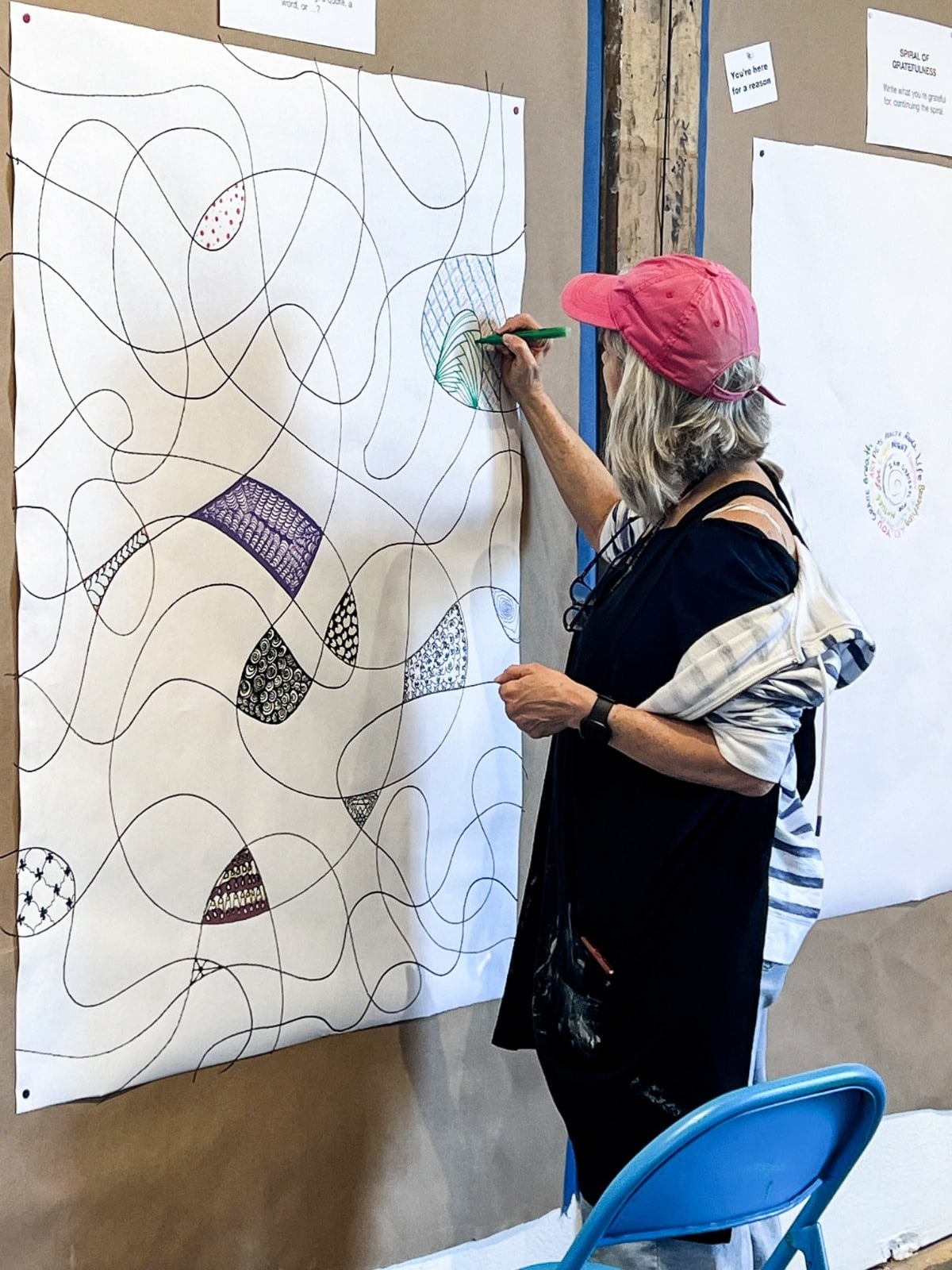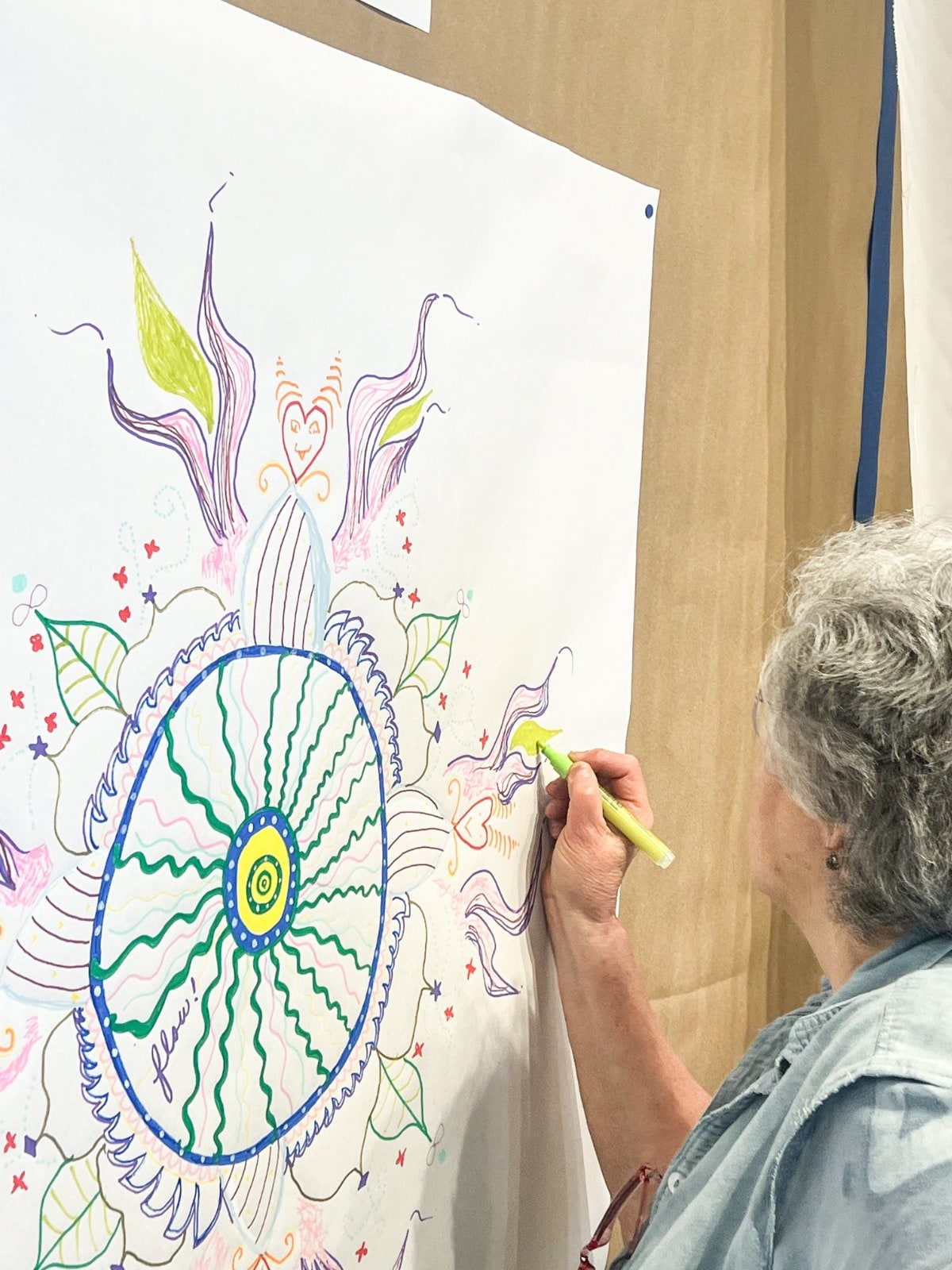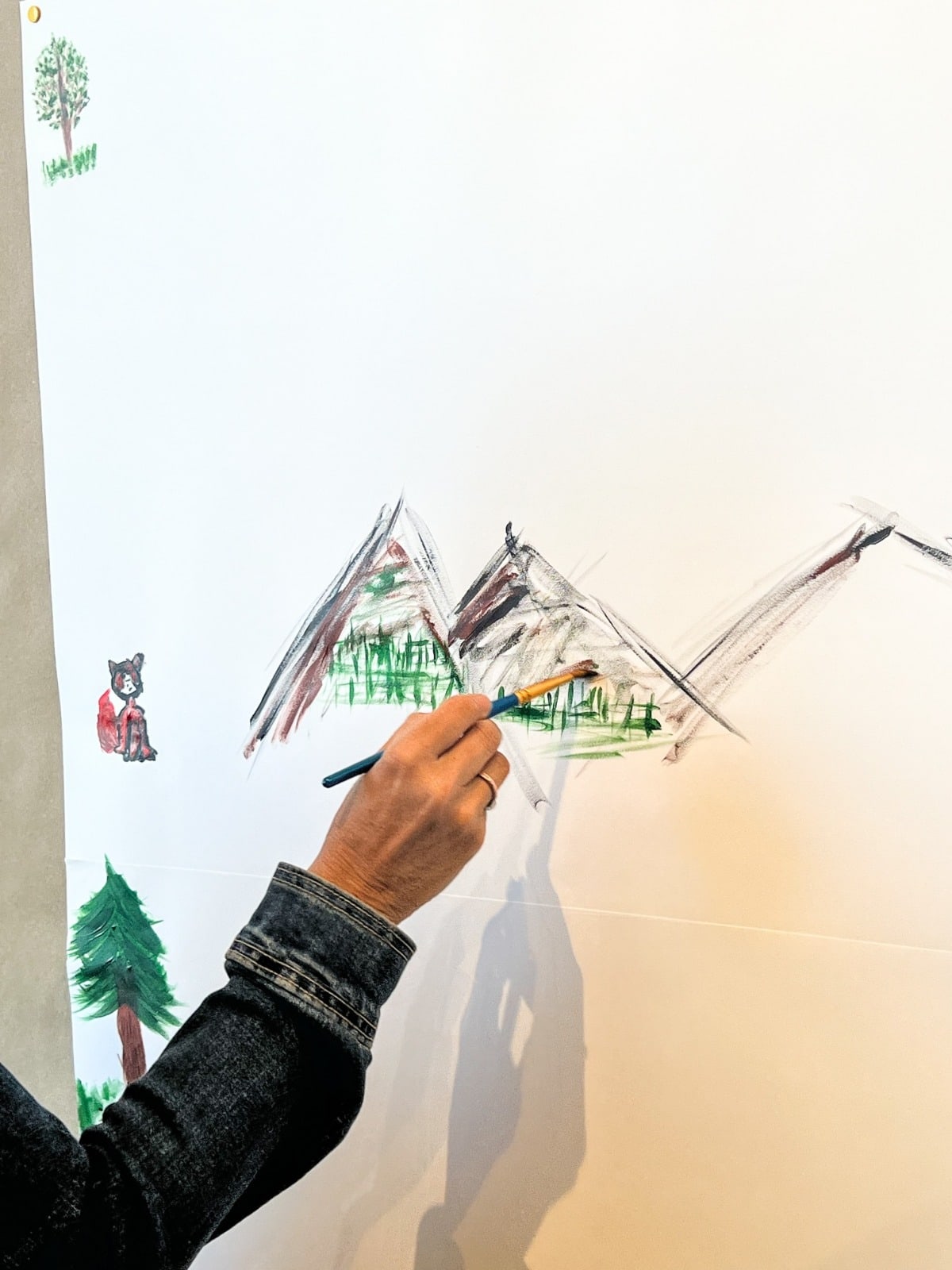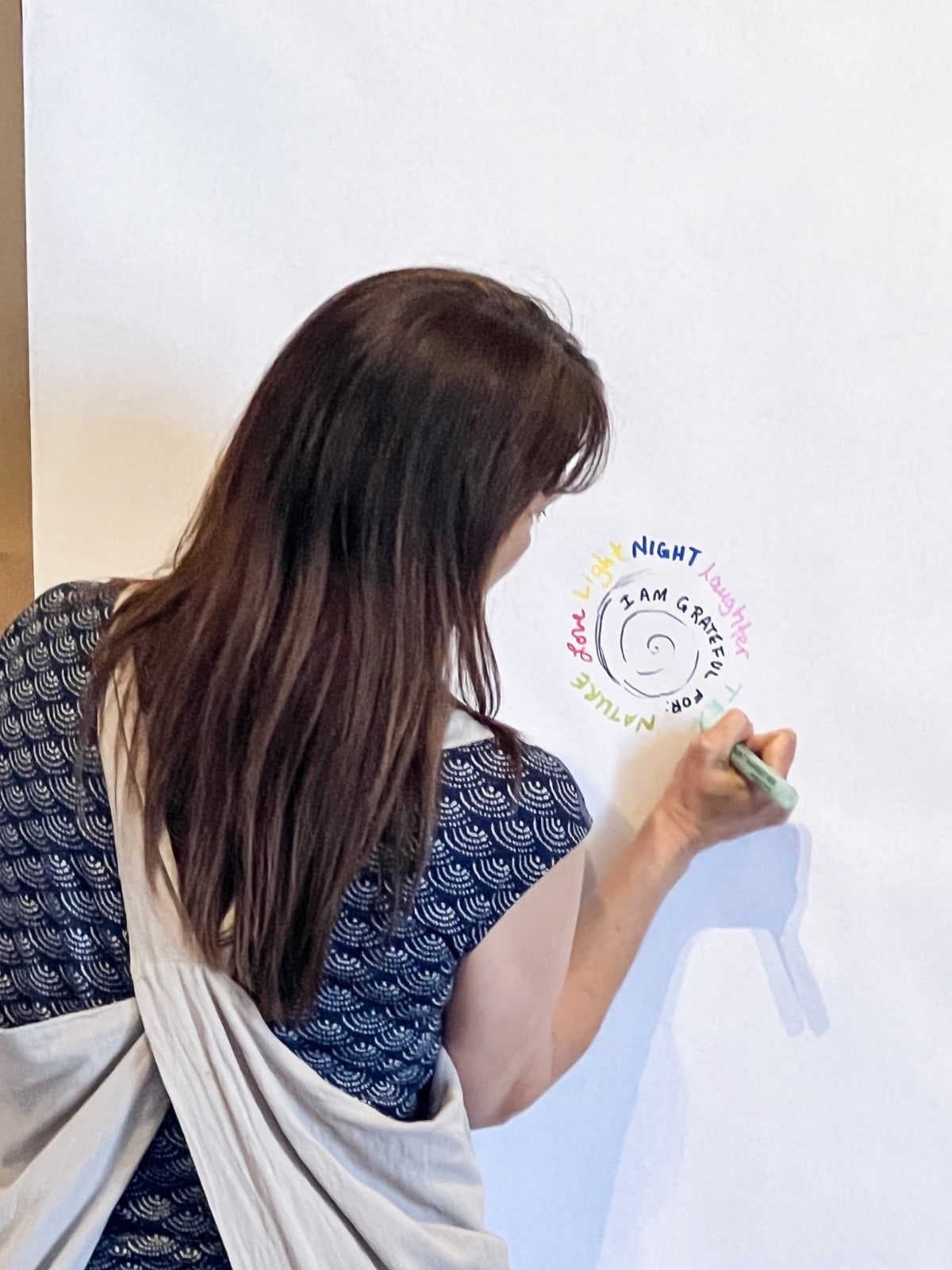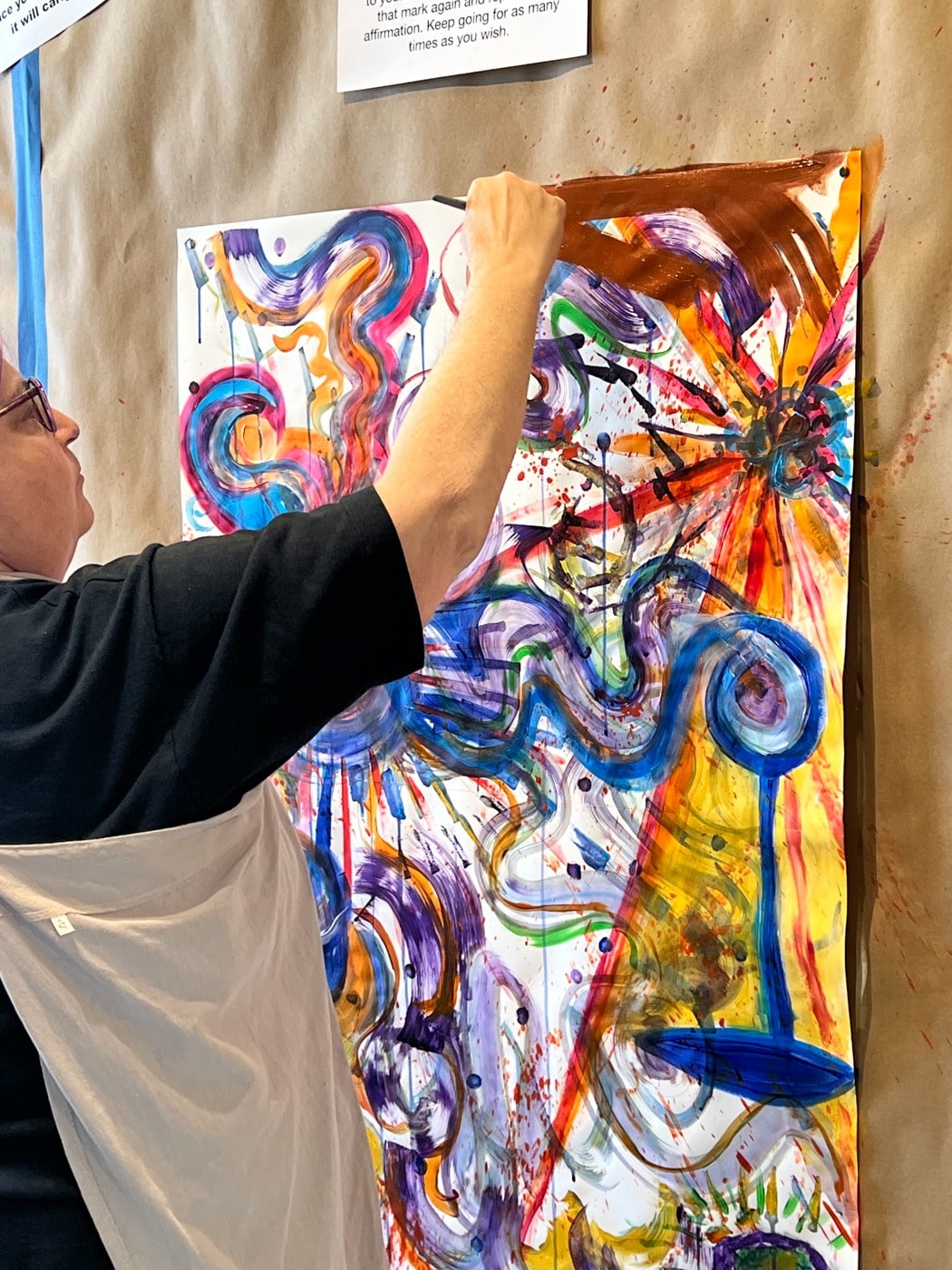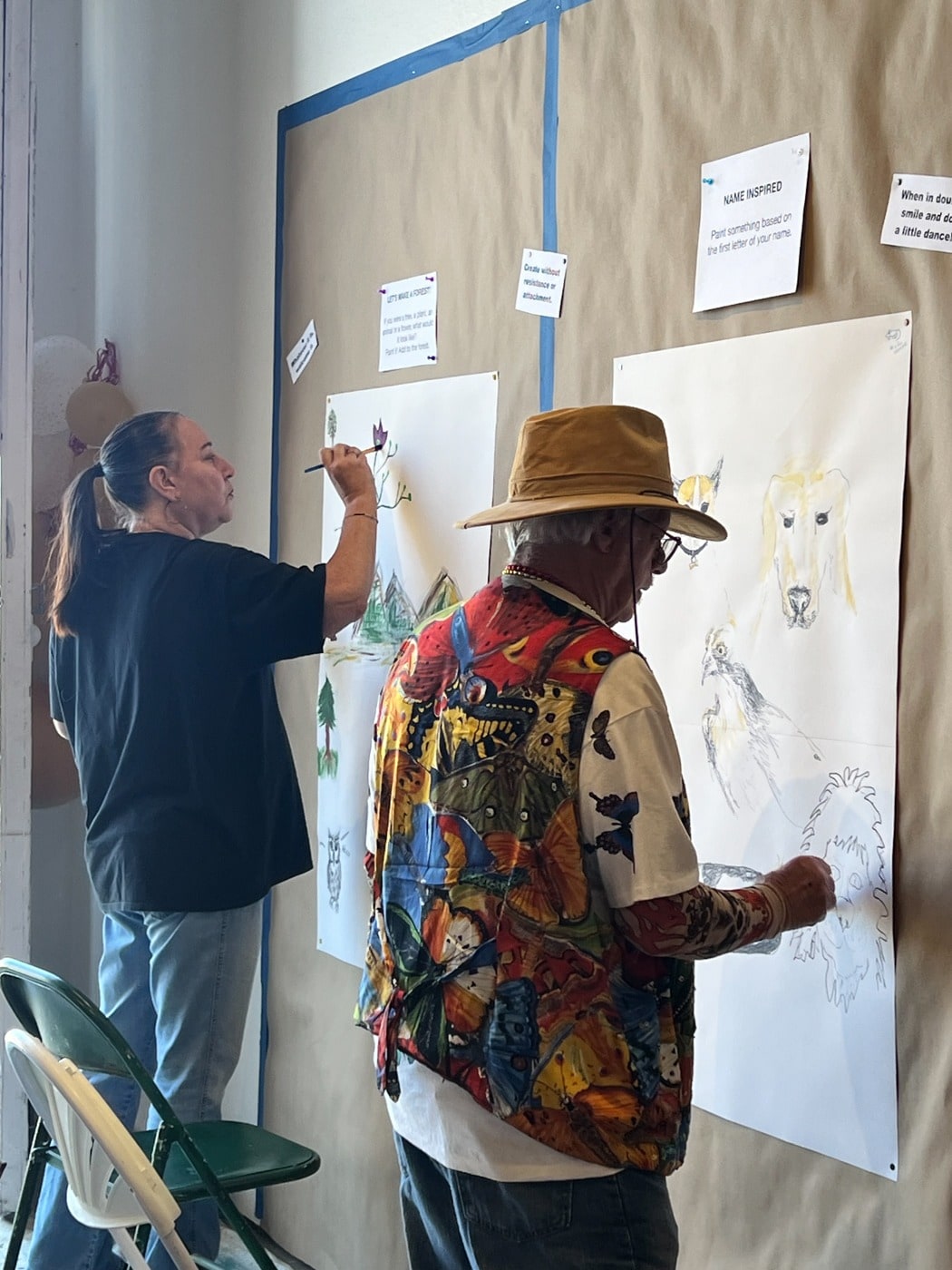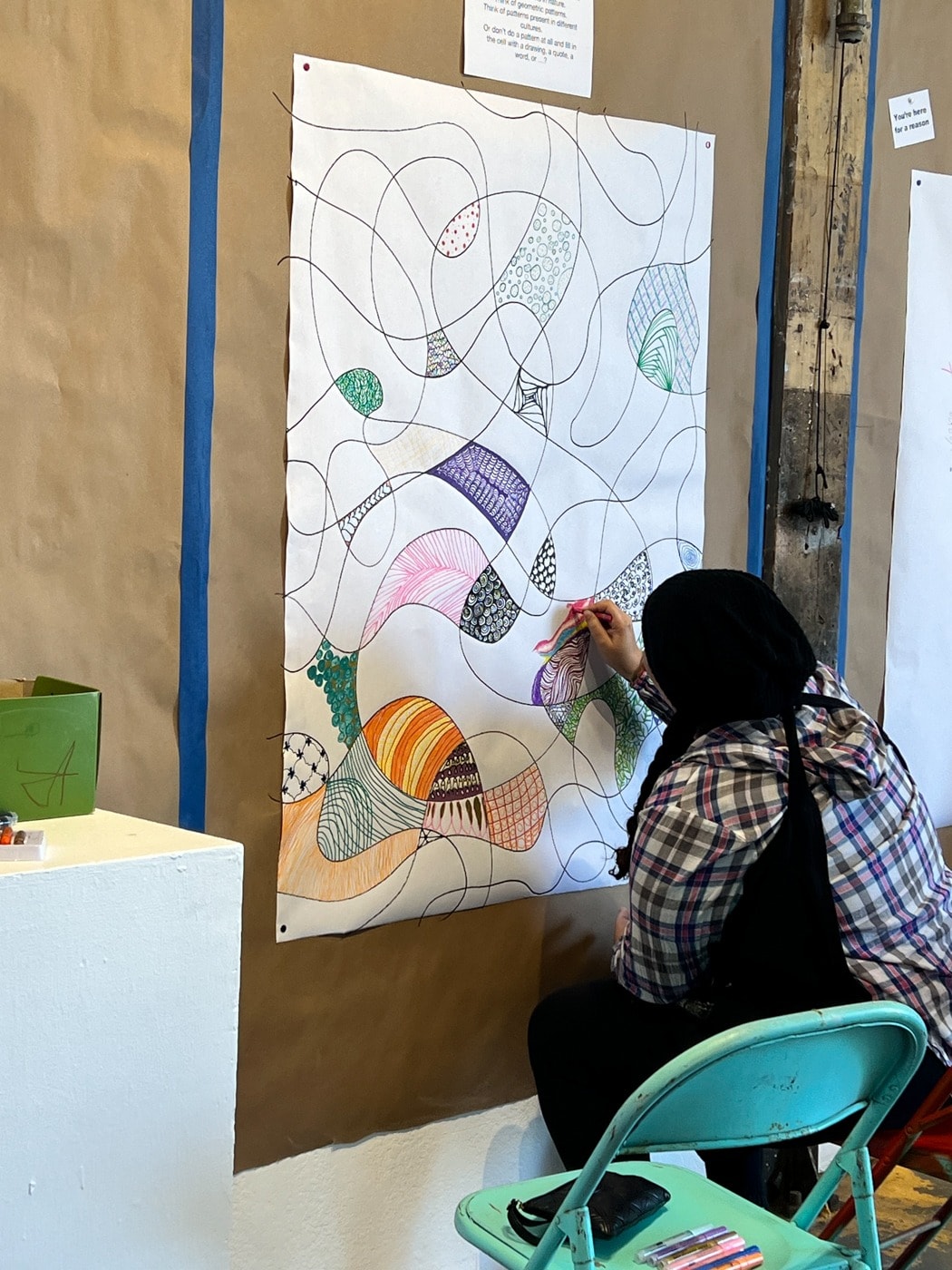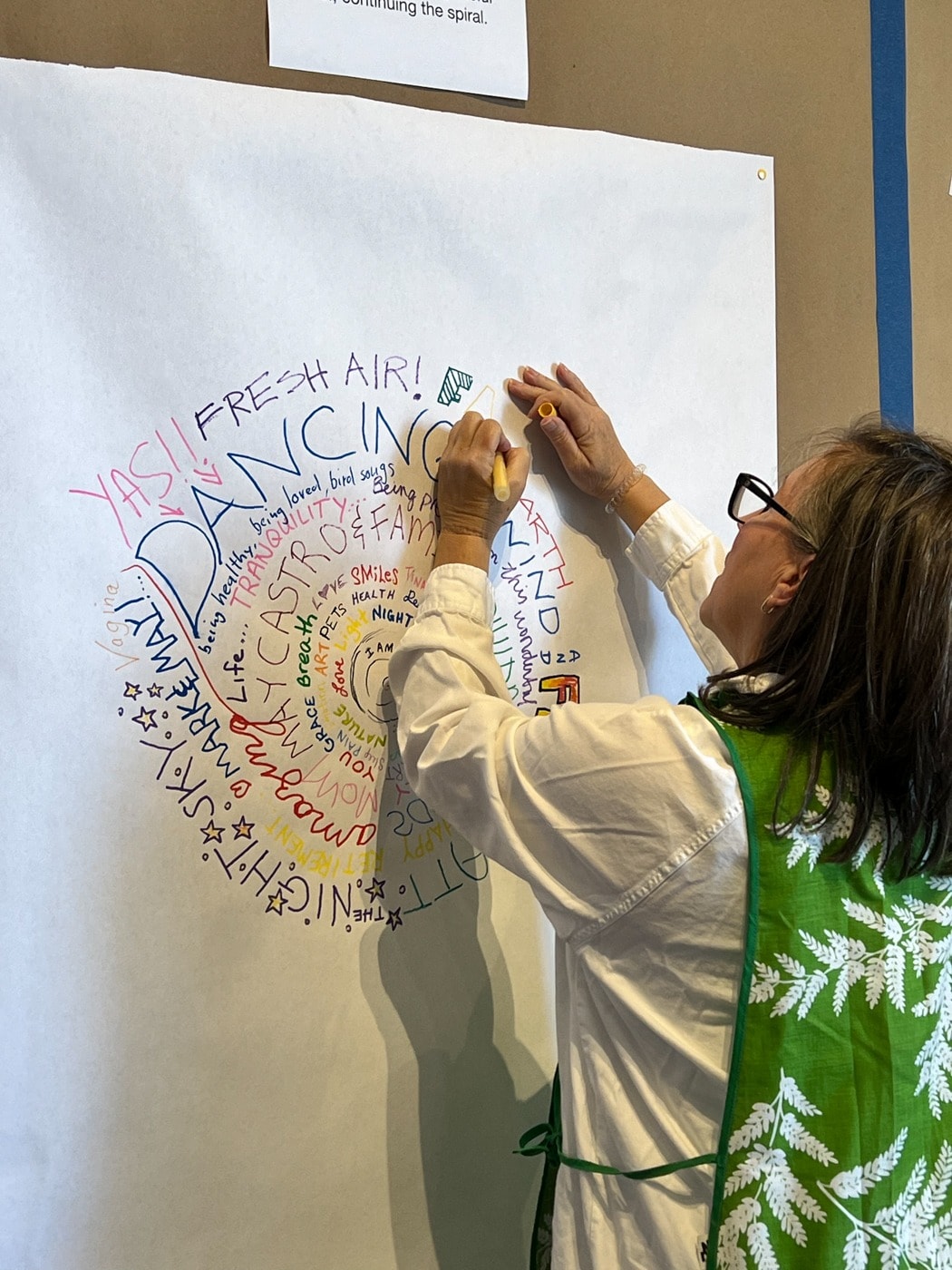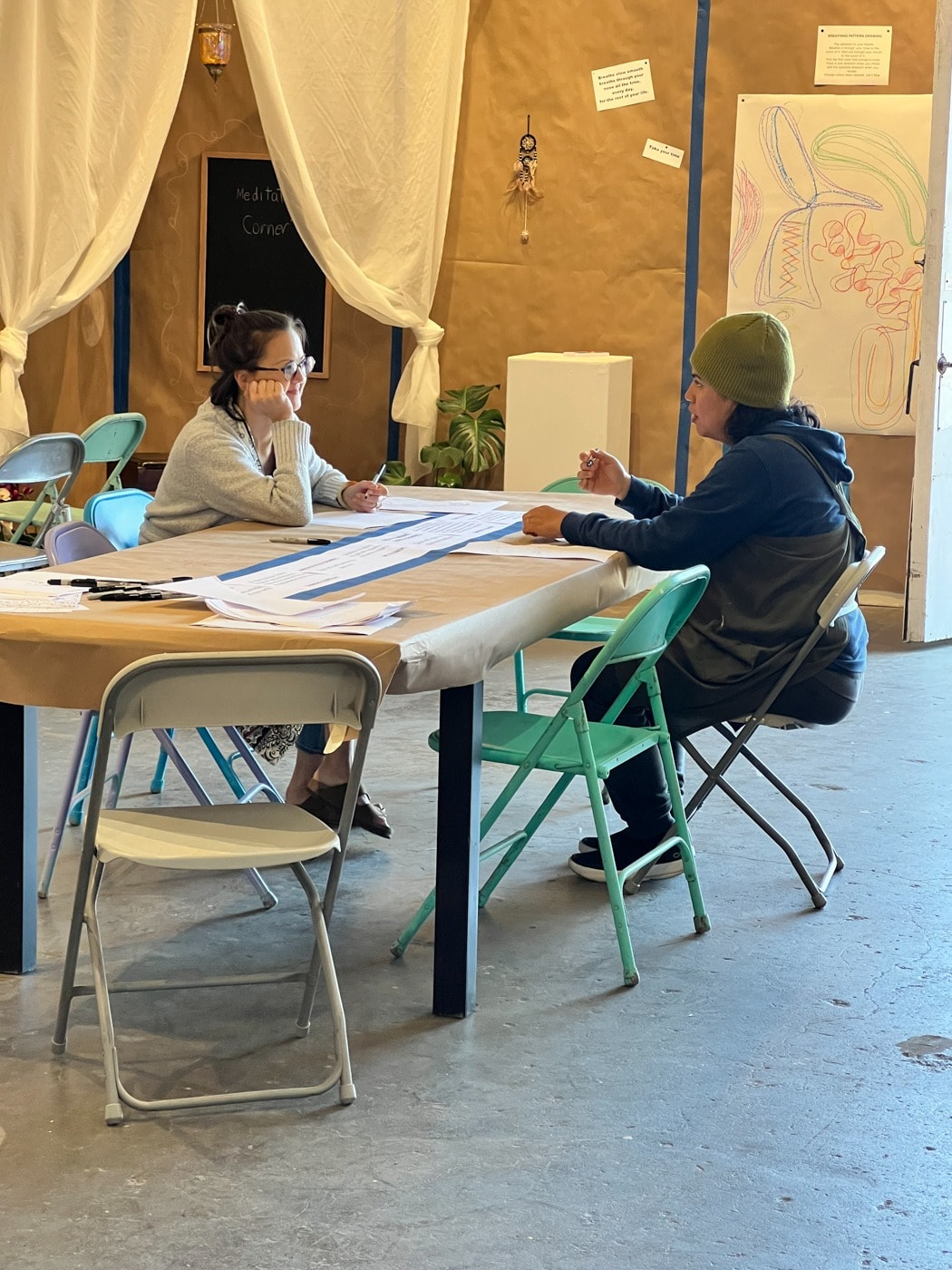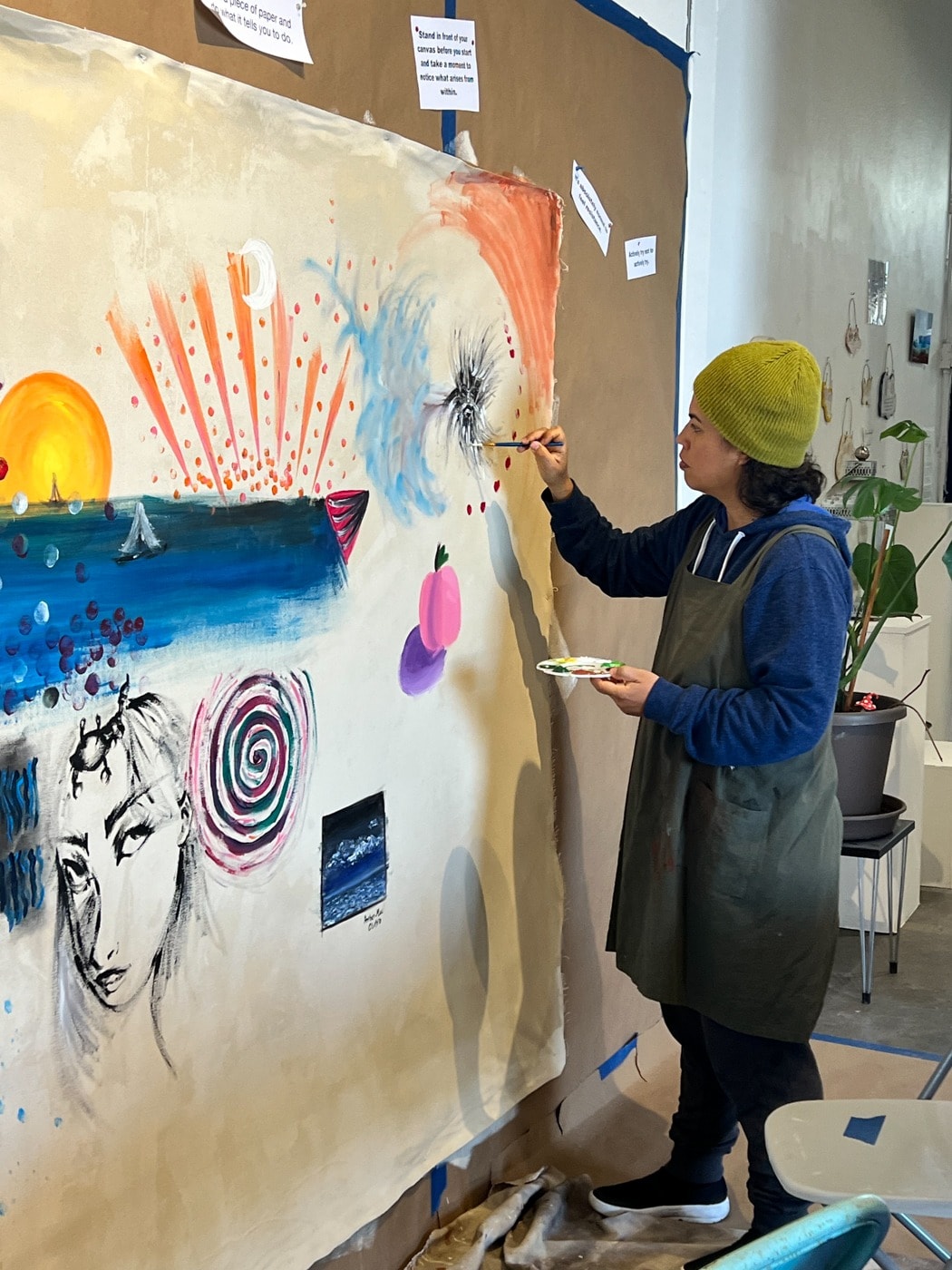 We ended up a few weekends ago at the Mare Island art studios and my seven year old participated in the Letting Go Experience. this communal art experience kept my daughter engaged for over an hour, and it was a wonderful way to meet other locals and also to engage in an enriching and healthy experience in the community. We need more of these opportunities and spaces!
Denise